As autumn approaches, the vibrant colours of summer start to fade, making way for the warm and cozy hues of fall. For businesses, this change in season presents a unique opportunity to create a welcoming entrance that leaves a lasting impression on customers and visitors. In this blog post, we'll explore the art of fall commercial landscaping and share tips and examples to help you transform your commercial space into an inviting haven for the season.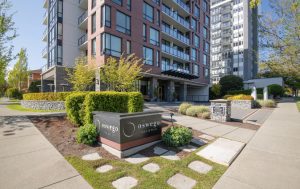 Curb appeal plays a significant role in attracting customers to your business. A well-designed entrance can pique curiosity and draw people in, setting the tone for their experience. During the fall, when nature is putting on a show, you can harness the beauty of the season to your advantage.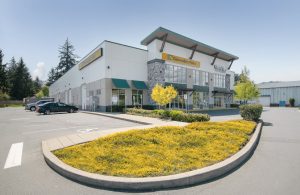 2. Embrace Fall Colors
One of the most striking features of autumn is the kaleidoscope of colours that nature provides. Incorporate these colours into your landscaping to create a harmonious and visually pleasing entrance. Consider planting fall-blooming flowers like chrysanthemums in rich reds, oranges, and yellows. Pair them with ornamental grasses that sway in the breeze and provide texture to your display.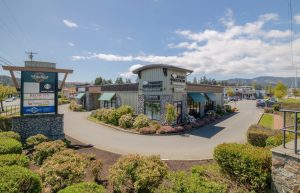 When selecting plants for your fall landscaping, think beyond just flowers. Trees and shrubs with colourful foliage can add depth and contrast to your entrance. Japanese maples, for example, offer stunning red and orange leaves, while burning bushes turn brilliant shades of red in the fall. These plants contribute to the aesthetic appeal and provide a sense of warmth and coziness.
To keep your fall landscaping looking its best, regular maintenance is key. Remove fallen leaves promptly to maintain a tidy appearance. Prune any dead or overgrown branches to keep your entrance safe and inviting. Proper watering and fertilization are essential to ensure that your plants thrive throughout the season.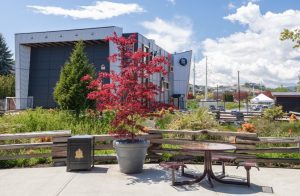 5. Welcoming Accessories
To enhance the overall ambiance, consider adding seasonal accessories. Decorative pumpkins, hay bales, and wreaths can evoke a sense of autumn nostalgia and charm. Arrange these items strategically, but do just what is necessary. Less can often be more when it comes to seasonal decorations.
Let's look at some real-world examples of businesses that have successfully embraced fall commercial landscaping:
Coffee Shop:

A cozy coffee shop creates an inviting outdoor seating area with warm-coloured cushions, potted mums, and hanging string lights. The aroma of freshly brewed pumpkin spice lattes wafts through the air, enhancing the fall experience.

Hotel:

A hotel adds a row of flowering crabapple trees along its entrance, providing a stunning display of red and orange leaves. A well-placed bench under a colourful tree invites guests to sit and enjoy the autumn beauty.

Restaurant:

A restaurant uses large planters filled with ornamental grasses and asters to define its outdoor dining area. The soft rustling of the grass complements the fall ambiance, making it an ideal spot for diners.
In conclusion, creating a welcoming entrance with fall commercial landscaping is a powerful way to make a positive impression on your customers and enhance their overall experience. By embracing the season's beauty, selecting the right plants, and paying attention to maintenance, your commercial space can become a warm and inviting destination during autumn. So, go ahead and let the colours of fall work their magic on your entrance—it's a decision your business and your customers will appreciate.